Governor Samuel Ortom of Benue state has called on those wishing President Muhamamdu Buhari dead to go and confront God.
He stated this Monday night when he paid a solidarity visit to the Acting president, Yemi Osinbajo at the presidential villa, Abuja.
Ortom is the first governor to publicly declare his support to the Acting President in a manner so unusual since President Buhari jetted out on January 19, 2017 for holiday.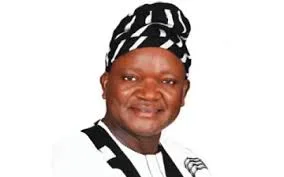 While condemning the rumored death of president Buhari, Ortom also believed it was the Will of God for the president to be in charge of Nigeria's affairs at this time.
He said: "Well, today is to pay solidarity to the Acting President of the Federal Republic of Nigeria and to pledge my loyalty and best wishes to him and to wish Mr. President, who is on vacation, good health and safe return back to continue to lead us. And we pray that God will continue to help this administration that came at a time that Nigeria is passing through recession occasioned by bad leadership by past administration.
"And to say that those that are wishing Mr. President death should go and confront God who brought Mr. President to be President of Nigeria. It wasn't his making".